The best outfits of our beauties that were TOP this week? Andrea as a sexy zebra, Gabriela in a men's tuxedo!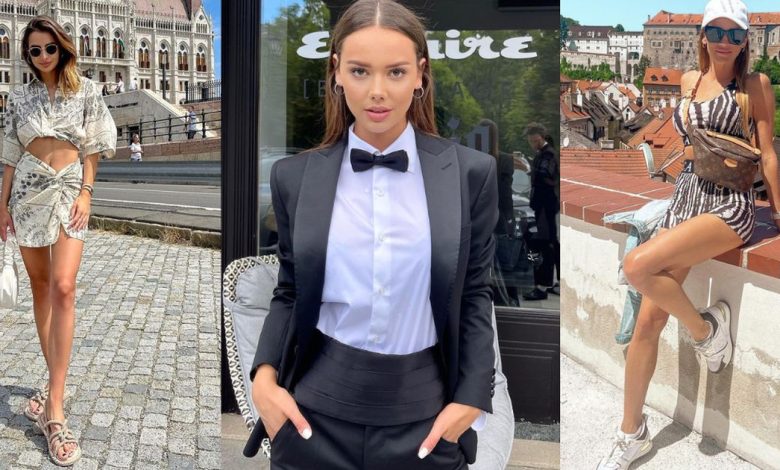 Exposed cleavage, bare back, or legs? Temperatures hit record numbers again this week, forcing many beauties to shed layers of clothing. Andrea Verešová opted for a sporty outfit, the beautiful Karolína Chomisteková stayed true to black.
Tatiana Žideková
The well-known Slovak fitness star Tatiana Žideková is a great lover of summer. If you follow her on Instagram, it is certainly clear to you that she does not stay in one city for more than a few days.
During her vacation, she reached for a simple but effective dress in blue, which looked great in contrast with her tanned skin! Tána completed the outfit with minimalist jewelry and a set in the form of a Chanel handbag and espadrilles, which are perfect for summer.
Photo gallery

Tatiana Žideková
Veronika Vágnerová
Less is sometimes more. And in this case it applied to %. Veronika Vágnerová reached for elegant black cocktail dresses that should not be missing in any woman's wardrobe. If we add the charisma and sex appeal of the Slovak model, we get the result in the form of a Femme Fatale.
Veronika added elegant sandals to the dress of her own brand and she didn't forget the sensual red lipstick, which was the icing on the cake of this outfit.
Photo gallery
Veronika Vágnerová
Andrea Verešová
The former Miss Slovakia has traveled almost the whole world. During the pandemic, she even lived with her family in Dubai for several months. But now, together with the family, they decided to visit the beauties of the Czech Republic.
One of the stops was Český Krumlov, where Andrea Verešová was definitely not to be missed. The brunette wore a set with a zebra print, in which her great figure stood out.
Andrea Verešová Source: Instagram
Stylemon
Can't you imagine summer without colors? Not even Slovak blogger Stylemon, who is known for not wearing black at all. Conjuring up an outfit in these hot days in which you won't feel like a sardine in oil is quite difficult, but Lenka managed it perfectly.
The blogger combined pink shorts, which look like a skirt thanks to their refined cut. She added a turquoise top and a yellow necklace. If you think that such a combination of colors is too much, then in the summer you can afford to go beyond your comfort zone.
Photo gallery
Blogger Lenka Madlenová Source: Instagram