We don't see her in costume every day! The president surprised again, it fits her in other ways, not only in designer pieces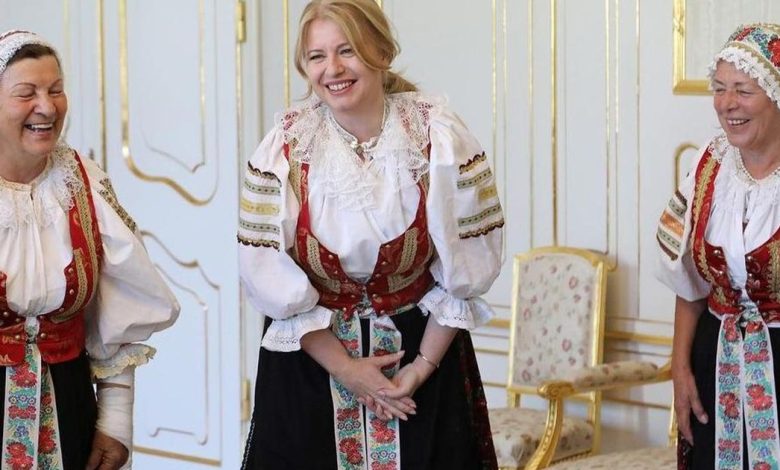 Zuzana Čaputová shone in her costume. She has already proven several times that, in addition to dresses and costumes, she has no problem showing herself in, for example, sports clothes, this time she even surprised in a costume and in a great mood.
The head of state showed off in national costume
Zuzana Čaputová again dressed in national costume, it is not the first time she wore such national clothes. She met the members of the Radość ensemble and even sang with them. She added a few words to her Instagram to describe the experience.
"Pure joy! Such was the meeting with the Pezincans from the folklore group Radosť. It was wonderful to sing, laugh, and talk just for the joy of it. Also thanks to the beautiful costume you brought me to try, I felt like one of your members. Thank you for spreading energy and good mood for years not only at home, but also for making a good name for Slovakia in the world." See in the photo gallery how the president looked in her costume and what her immediate mood was during the meeting:
Professionals take care of her makeup and styling
Her court designer Boris Hanečka takes care of the fashion pieces that our head of state wears. "We consult each model together. I am always invited when models are made for it. Sandra Žigová and I are in a team together and we discuss each model together, together with the accessories. With the tailors, I cover some additional modifications on the purchased models," Boris Hanečka told Diva.sk.
Boris also told us in the interview how he chooses dress models for the president, what color he thinks suits her best, and what he personally likes most about Zuzana Čaputová:
Ján Molnár takes care of her makeup, whose work is sought after by many famous faces. Janko told us what hairstyles he likes to make for the president the most. , if he is traveling somewhere. For example – even when she was in France, we did her special hairstyling. However, the president has a limited number of hairstyles."
See more pictures of our president in the photo gallery: